What to take in your backpack for the "Camino De Santiago" hike
Useful tips and information to ensure you are properly prepared
In this article you will find a list of useful items to help you prepare the perfect packing list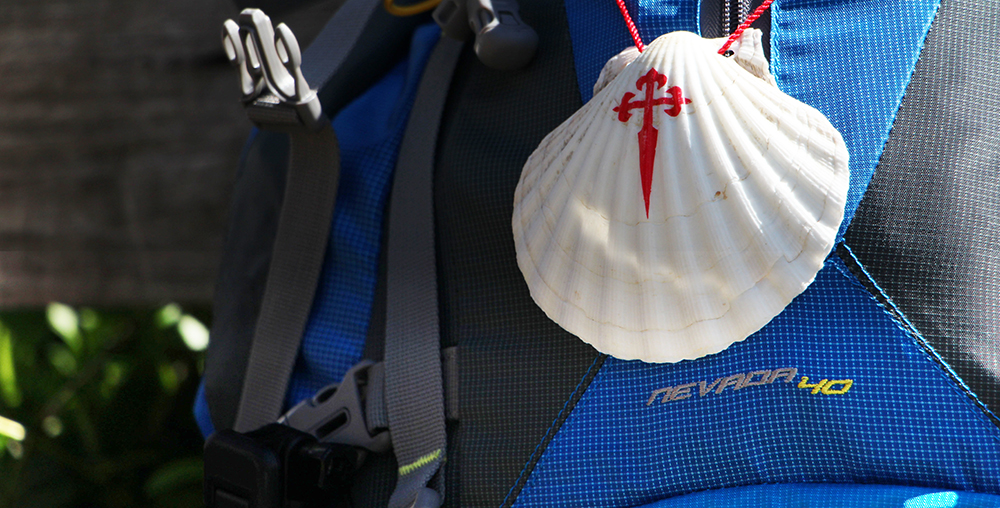 Preparing your backpack for your "Camino de Santiago" hike is really easy; you just need to follow some tips.
We recommend that you use a backpack with up to 40 litres capacity. You don't need a large backpack, because you might be tempted to pack heavy or useless items. Your backpack should be as light as possible in order to allow you to enjoy your Camino walk every step of the way.
As a general rule of thumb, you should not carry more than 10% of your own body weight, so for a person weighing 75 kg, the weight of the loaded backpack should not exceed 7.5 kg.
If you are undecided about what to take, remember that in the country where you are going you will find many shops providing equipment to accommodate pilgrims and travelers.
Also important is ensuring your backpack is correctly fitted. Good adjustment ensures the bulk of the weight is carried on your hips rather than on your shoulders, thus keeping a low center of gravity and helping you stay balanced. For correct fitting we suggest you visit our information page which contains useful tips.
The first element you should focus on is selecting a breathable back system. Especially in the summer season, fitting a backpack that does not rest entirely on your back, with a breathable mesh combined with a curved structure, such as our FREEDOM AIR MESH SYSTEM, allows your back to breathe.
Another element to take into consideration is the rain cover, which is essential to protect your dry clothes from water and moisture.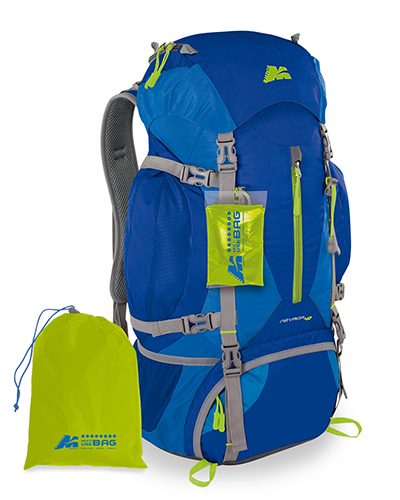 Nevada: the ideal backpack for your "Camino De Santiago" adventure
Click here to discover further features of the Nevada
As a gift you will get a MULTI USE BAG, which is ideal for storing shoes, underwear, and more …
Below is a list of useful accessories to take with you during your "Camino De Santiago" hike
1. Sleeping bag MAIORCA AND CANDY
To undertake this long and strenuous hike you will probably choose to overnight in the many hostels or shelters to be found along the route.
A sleeping bag will be essential to ensure a good night's rest. The sheet is useful because in hostels you are usually provided with very light disposable linen. The sheet bag "Candy" is ideal because it is small, light and compact.
2. In case of rain ... A PONCHO!
Weather conditions are unfortunately unpredictable. Especially during the summer season you can expect a sudden downpour at any time.
In this case a comfortable PONCHO is essential to avoid turning up at the hostel soaked to the skin. The rear extension is essential to ensure it fits comfortably even when you are wearing your backpack.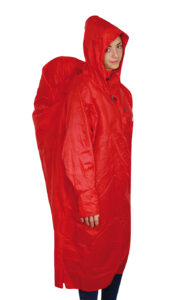 3. MAGIC BOTTLE or CILE
Along the way you can often find water supply points so a handy folding bottle can be ideal; when it's empty you can compress it so that it takes up as little space as possible.
A hydration bag is an ideal solution to enable you to drink without having to stop each time to take out a bottle from your pack.
It can be conveniently stowed in the hydration bag pocket inside the backpack, and the tube can be fed out through the access hole at the top.
4. Illuminate your path
During the summer season the pilgrim is often forced to set off or arrive at night, both to escape the heat, as well as to be sure of finding a bed in a hostel. So it becomes essential to have a headlamp that is also useful in the hostels, to enable you to move around silently without waking guests in the middle of the night. You can choose between two different models in our shop.
5. An additional pocket is always useful
Often along the way, it is useful to have a handy pocket. How many times do we have to stop to take our phone, camera or a packet of tissues while hiking? A waist belt could be too bulky to carry, but stopping every time becomes inconvenient.
A good compromise is POCKET. It's a handy pocket that can be attached to the waist belt or shoulder strap. Now nothing can stop you!

Llegar a Compostela no es el final, sino el término de una jornada que da comienzo a otro Camino.